Message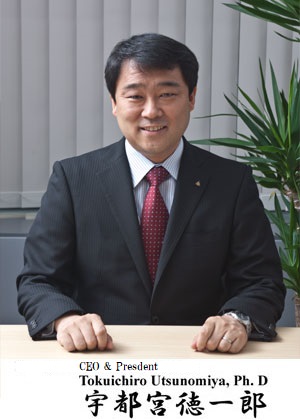 Minophagen Pharmaceutical Co., Ltd. was founded by Tokuma Utsunomiya as Goshi Gaisha Minophagen Seiyaku Honpo Minouchi Meneki Yakuri Kenkyujo (Minouchi Immunopharmacological Research Center of Minophagen Seiyaku Honpo, a limited partnership pharmaceutical company). We celebrated our 83rd anniversary in June 2021.
In accordance with our corporate philosophy, we aim to be a development-based global niche company that undertakes continuous innovation, responds immediately to changing times, and provides unique, high-quality products.
Last year, we formulated a medium-term business plan for total of 6 years for the first period of Reiwa (2020-2022) and the second period of Reiwa (2023-2025). The goal was to gain a foothold in the future by strengthening our business foundation to ensure stable product supply, develop other indications of Targretin®75mg capsules (generic name: Bexaroten), a therapeutic agent for Cutaneous T-cell Lymphoma, and promote this product in Asia, including China. In addition, we will introduce new products and undertake synergistic products from other companies. As a research and development company, we will promote business development to meet the unmet medical needs of patients around the world.
To tackle the novel coronavirus (COVID-19), we have already carried out intermittent shift work from home in the head office area, MR, and research institutes by integrating PCs used at home and mobile devices in response to requests from the national and local governments. At the same time, we thoroughly trained employees on information security and promoted improvement of an environment for digitization without degrading work efficiency. On the other hand, at the Zama Factory, we thoroughly prevented infections and endeavored to provide stable supply of our products. In addition, for the first time, a GMP survey (written) was conducted by overseas Taiwanese authorities, and a survey by the local Kanagawa Prefecture was conducted, both of which resulted in successful certification.
In China, where sales have been strong so far, major market changes have occurred due to the effects of centralized purchasing aimed at curbing medical expenses, so we will continue to collaborate with sales partners Eisai and local wholesalers and endeavor to collect information and plan and implement countermeasures.
We will contribute to the health and welfare of people all over the world by seeking to improve benefits for patients and families, complying with laws and regulations, and continuing to provide safe, high-quality pharmaceutical products. We respectfully request your continued support.
June, 2021
Tokuichiro Utsunomiya, Ph.D.
CEO & President